Gossip Girls has nearly reached the end of season 3 and I am one of the hot series die hard fan! Although, I didn't watched the episodes immediately after they were uploaded. I'm getting confused episode by episode seeing Chuck Bass (played by Ed Westwick) changing characters! Maybe his fans would die to see him right now since he's now the most gentle person (in my eyes) in the super hot series.. Let's go through the characters of Chuck Bass:

Season 1:
damn hot womanizer, casanova
obnoxious yet hilarious
fiercely loyal to his best friend, Nate Archibald
has liked Blair Waldorf for a long time
Season 2:
showing all his love for Blair and has really been into her
is often shown to be nearly monogamous in light of his love for Blair
changed back to old Chuck after his father's death
played a cat and mouse game with Blair, both unsure of their true feelings
Season 3:
love and trust Blair with all his heart
use every authorities he has and his wealth to ensure Blair's happiness and satisfaction
(that's all I could see since it hasn't finished yet)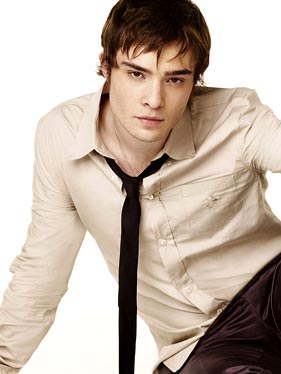 Despite all the sometimes-elaborate plans for vengeance and self-gain formed by both Chuck and Blair when it comes to manipulation and revenge where he is a male version of Blair Waldorf,
Chuck has really changed!
Just how much influence a woman can lay on a man until a jerk has in the end turned into a responsible gentleman??